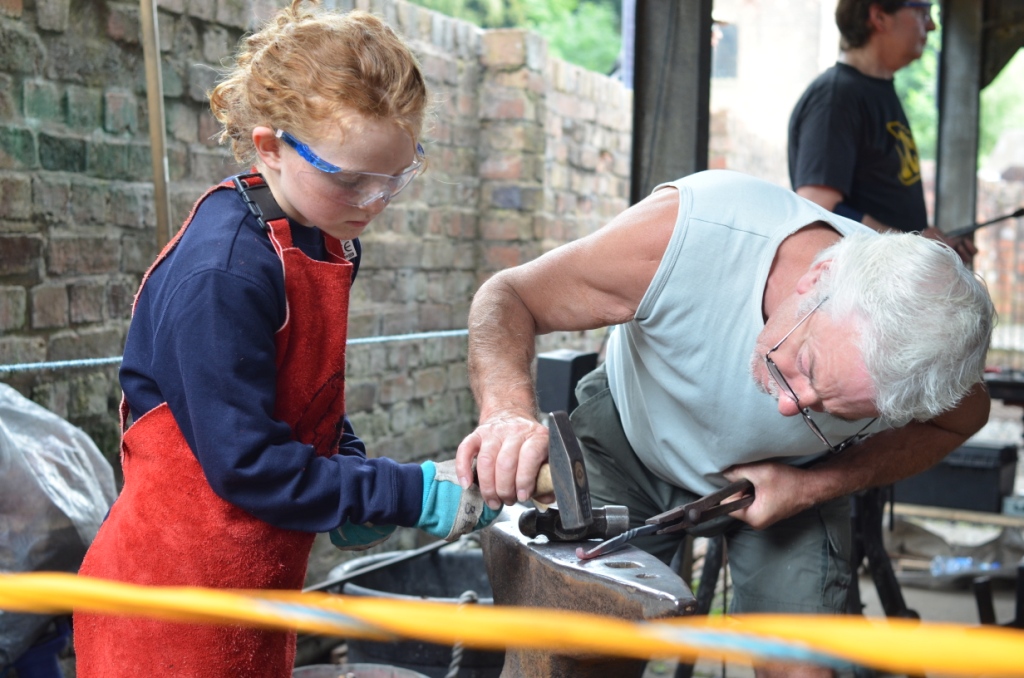 Over the years, BABA members have worked collaboratively to create some wonderful, permanent public artworks that now take pride of place in numerous locations across the UK. Many of these artworks are created or completed at 'forge-ins' - events where BABA members come together at various venues (such as Blists Hill and Hereford College of Arts) for weekends of forging, masterclasses, lectures, demonstrations and socialising.
The Gates to Shakespeare's Globe, London, UK - 1991
140 blacksmiths from 14 different countries each made a motif from a Shakespeare play (a nettle, a shrimp, a mermaid, a flea, etc.) to fix onto frames made by Brian Russell. Gates commissioned from Richard Quinnell Limited by Pentagram / Shakepeare's Globe. BABA held a wonderful 'forge-in' at the Globe, and Blue Peter filmed the event, with presenter Romana having a go at hitting hot iron.
The International Pillar of Friendship, 'Enginuity', Ironbridge, Shropshire, UK - made at the BABA AGM, Blists Hill, Ironbridge - 2007
14 spaces; 14 international guests; 14 teams. Working together in the atmospheric setting of Blists Hill, Ironbridge, to create a remarkable sculpture inspired by a theme of international friendship. The sculpture was sited in Liverpool (above), before returning to a permanent home outside the 'Enginuity' museum at Ironbridge Gorge.
Foundry Boxes, 'Enginuity', Ironbridge. Made at the BABA AGM at Blists Hill, Ironbridge, Shropshire, UK - 2012
The Blacksmith's Needle, Quayside, Newcastle, UK - 1997
The Blacksmith's Needle was installed in 1997 following the BLINC conference at Carlisle in 1996, which was the final part of the twoyear touring exhibition, Fe - An Exploration of Iron Through The Senses. The six segments of the needle, each one relating to one of the five senses, were created at a series of five major forge-in events, in England, Scotland, Wales & Brittany, France, with the final segment, the 'sixth sense', being created at the conference in Carlisle. The touring exhibition, the conference and the production of the Needle were co-ordinated by Alan Dawson, Shona Johnson, Elspeth Bennie & Jois Hunter, with help from many artist blacksmiths up and down the country.